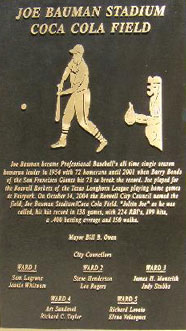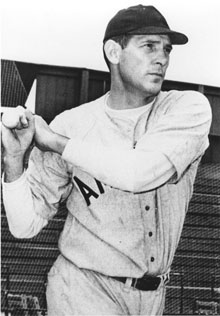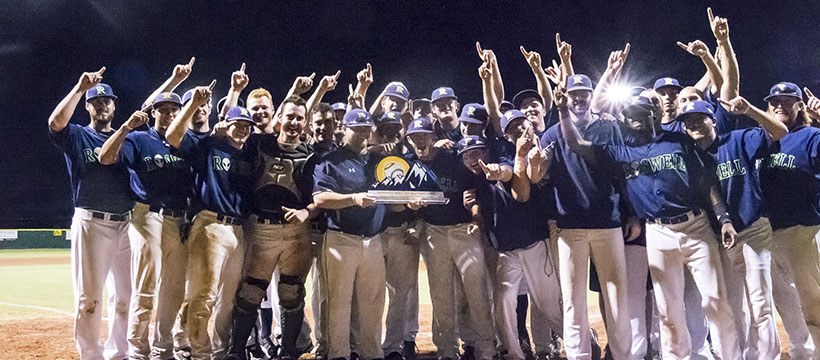 Joe Bauman Stadium 2500 E Poe Roswell, NM 88201
Welcome to JoeBauman.com a website dedicated to the home of Roswell Invaders named after Joe Bauman. Joe Bauman Park was legally acquired by the City of Roswell New Mexico in 1939. It adjoins Chaves County Fairgrounds and Highway 285. Joe Bauman became professional baseball's all time single season home run leader in 1954 with 72 home runs until 2001 when Barry Bonds of the San Francisco Giants hit 73 to break the record. Joe played for the Roswell Rockets of the Texas Longhorn League playing home games in

Who is Joe Bauman?
Joe Willis Bauman (April 16, 1922 – September 20, 2005) was an American first baseman in professional baseball who played primarily in the low minor leagues, including the American Association, the Eastern League, and the Southwestern League. He is best remembered for his time with the Roswell Rockets, for whom in 138 games in 1954, he hit 72 home runs,[1] a record that stood throughout pro ball until it was topped in 2001. He played for the following teams:

Newport Dodgers (1941)
Little Rock Travelers (1941)
Amarillo Gold Sox (1946–47)
Hartford Chiefs (1948)
Milwaukee Brewers (1948)
Artesia Drillers (1952–53)
Roswell Rockets (1954–56)
Single-season minor league home run leader (72)
Led the West Texas-New Mexico League in home runs (1946)
Led the Longhorn League in home runs (1952–55)
Led the Longhorn League in batting average (1954)
Bauman debuted in pro ball with Newport in the Northeast Arkansas League. Hitting only three home runs in 59 games, he also went 0-10 as a pitcher when he was called up to Little Rock in the Southern Association. During the winter, when World War II began, Bauman played semi-pro ball in 1942, and was in the service from 1943 to 1945.
Upon his return, Bauman settled in with Amarillo in the West Texas-New Mexico League. He led the circuit with 48 home runs, 159 run batted in, and a .301 batting average. The following season, his home run totals went down, but his production went up. He hit just 38 homers, but he hit .350 and drew 151 walks, and was signed by the Boston Braves.
In 1948, Bauman played in the Braves organization, going 0 for 1 in Class AAA, and posting fair stats in Class AA (.275, 55 BB, 10 HR in 276 AB), while splitting time with Ray Sanders. It was Bauman's only time outside of the low minors, and left it inconclusive as to whether he could play in the majors or not.
The Braves tried to send him to Atlanta of the Southern Association but wanted to cut his salary. After four years in the U.S. Navy, Bauman was tired of taking orders and walked away. "I told them that I could make more money selling 24-inch shoestrings on any corner in Oklahoma City," he said. During this era in baseball, most major leaguers did not make much money.[2]
Bauman returned to Oklahoma in 1949, signing on for three seasons with the semi-pro Elk City Elks. He also opened a service station on busy U.S. Highway 66 with a business partner Jack Riley.[3]
The Elks did well, especially in 1949 and 1950, and Bauman was a crowd favorite, known simply as "Joe." Fans from western Oklahoma and the Texas Panhandle flocked to watch him knock home runs over the unique red rock wall of Ackley Park. By 1951, the oil-boom economy and the team had begun to lag, though, and Bauman decided to move on.
At 30, Bauman joined up with the Class C Longhorn League for 1952, signing with Artesia. In that year, his triple crown stats were .375-50-157, good enough to lead the league in homers, RBI, and walks (148). The next year, he led the league in walks (130), runs scored (135), and home runs (53), while maintaining a high average. After the season, he moved to Roswell.
In 1954, Bauman broke out (if one can "break out" from a 53-home run season), winning the triple crown and also leading the league in runs and walks for Roswell. His totals were eye-popping. In 138 games, he had 199 hits in 498 at bats for a .400 average. He hit 35 doubles, 3 triples, and 72 home runs - the latter, a professional baseball record[1][4] that stood for years until Barry Bonds topped it in 2001.[3] He also drove in 228 runs, and walked 150 times.
Roswell was a small town, and Bauman was the biggest local attraction since the 1947 crash and suspected alien landing. After each home run, fans would push dollar bills through the fence, and the game would have to be stopped for a few minutes to collect all the money.[citation needed]
Bauman could not duplicate his 1954 season in 1955, hitting only 46 home runs with a batting average of .336. The following season, he played just 52 games and hit 17 homers. He retired in 1956 at age 34. The career ledger for Joe Bauman reads: 1,019 games, 982 runs scored, 1,166 hits, 337 home runs, 1,057 runs batted in, 974 walks, and a .337 batting average.
Date Opened 1939
Dimensions Left - 340' Center - 383' Right - 315'
Height of Wall Left - 8' Center - 8' Right - 8'
Elevation 3655
Chaves County, Roswell New Mexico USA